eCommerce

With online retail and ecommerce cart sales at US $155 Billion dollars in 2009 and increasing steady year on year the future looks bright for ecommerce. So as the world emerges from the GFC and with ecommerce sales climbing, now has never been a better time for would be entrepreneurs to enter the ecommerce market.
Find out more »
Webhosting

Host solutions are so numerous in the age of technology that making the decision can be a long process. WeServeBest has built a solid portfolio on top of our unique approach to development and hosting, which by years of experience, has proved to be a bulletproof model.
Find out more »
Custom Web Applications

Web applications are meant to work for you and your business. We strive to build dynamic web solutions that will not only be useful today, but as long as your business thrives. Companies accept their current methods because "that's how it has always been done." WeServeBest's mission is to turn that paradigm on its head by asking "How has it never been done?"
Find out more »
Living up to our name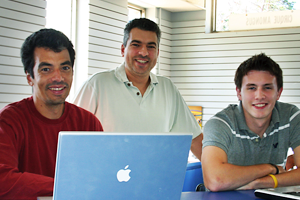 WeServeBest is a company that strives to live up to the adage that its name proposes—being the best. Backed with a support staff boasting years of domestic and international business experience, WeServeBest takes this knowledge base and supplements it with today's ever-growing e-commerce tools. The products produced are quite unlike what you might expect. The synthesis of dynamic and efficient web-based solutions with a grounded knowledge of business processes helps any company expand past barriers and roadbloacks once perceived impassable by the industry. It may sound like we just design web sites and host them. The missing piece we like to fill in is the innate business sense attuned to your company's needs that directs us to the right web technologies to serve your needs, which is—if we believe our customers—what we do best.
Testimonials
I started work with Aristide as part of a business engagement for a medical biller. Over the few months, I slowly watched the struggling biller transform into a profitable biller. Aristide used his knowledge of business processes thoroughly. The custom applications he and his team developed saved the biller time and money. For small business turnarounds, it is great to have Aristide and his team as your consultants.

"The nice thing about working with Aristide is that if he's not sure how to do something, he finds out, but then he improves it." "Aristide is always surprising me with what he can do...graphic design, internet code, marketing ideas. You name it, he's got it mastered. (I hear he can even ride a unicycle and juggle--go figure). But the best part is that Aristide doesn't just get jobs done on time, he's always coming up with ideas and plans to make my business better."

Mark, I just wanted to thank you again for all of your hard work and patience. I just looked at the website live and I have to say, I'm extremely impressed. It is everything I'd hoped for and more. The only thing that is missing is your name on it. Feel free to plug your name on it anywhere you'd like; you deserve to get your name out there and you deserve credit for building it. If you feel like taking on anymore future projects, I would be more than happy to pass your name along. We'll be in touch.

Over the past three years, I have worked with Aristide on numerous projects. He is creative, informed and skilled in his ability to analyze situations, evaluate a process, and make innovative recommendations with clarity and vision. I have experienced the nearly uncanny intuition he displays as a consultant and project manager, which I am convinced comes from an innate sense of business and brand development. I recommend Aristide and WeServeBest highly to any company.

Sem and Aristide, what a team. They are always willing to go the extra mile, always on top of things. I cannot believe that I am so lucky to have found them. Not only did they assist me with my website, but they regularly assist me with second and third tier assistance with my customers.

Aristide and his team guided our office through a metamorphose. In hindsight, we were an ugly caterpillar. But both of them saw our company for what we now feel it is, a beautiful butterfly. Thanks to them, we are saving money on a daily basis, and our own customers love us too, because the time saving applications that they instilled us with, have allowed us to refocus on what we do best, sprinkler installations and service. Aristide and Andrew really served us best!

Aristide and his team worked together to deliver an outstanding website customized to fit my needs. Aristide was instrumental in helping me establish and professional web presence. My web traffic soared for both my website and my blog under their management. They work seemlessly behind the scenes to create internet marketing magic!
eCommerce (and cocooning)
Search Engine Optimization
Web design & Branding
Webhosting
Custom Web Applications
Browse our Recent Projects:
Contact information
We like contact. The difference between an OK solution and a great solution is good communication. Projects are only successful if the communication lines are solid. And that all starts here.
First contact, go for it, you will not regret it.
Address: 29035 5 Mile Road, Livonia, MI 48154
Phone: +1 (734) 956-0050
Email: